Owning vacation rentals in desirable destinations such as Tybee Island, GA, just outside of Savannah can be a wonderful investment. In order to maximize return, owners must keep the properties rented as much as possible by keeping the unit in great shape all while keeping their maintenance costs low.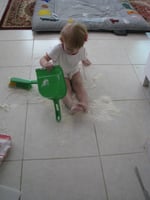 Flooring in vacation rentals is one surface that is likely to receive the most use and abuse. Especially in beach settings, the floor is bound to endure greater levels of wear and tear. Keeping sand out of a beach home is next to impossible and its abrasive nature can quickly damage many different types of flooring materials. Likewise, moisture from wet feet and towels as well as accidental spills from guests that may not be as addressed as quickly or thoroughly as they would be in a guest's own home can result in shorter than expected lives for floors.
There are two main considerations to factor in when selecting flooring for this type of application:
Ease and Cost of Maintenance

Replacement Cost

Flooring Materials to Avoid

There are many flooring materials that are perfect for residential and commercial use but are not well-suited for beach vacation rentals.
Carpet - stains relatively easily, sand can work its way deep into the carpet and padding, and the cost of replacement can be moderate to high depending on quality

Natural Hardwood - expensive, susceptible to moisture damage, scratches and dents

Bamboo - vulnerable to sunlight damage resulting in fading, susceptible to moisture damage and scratching, expensive to replace

Cork - may absorb water if improperly finished or worn down with sand abrasion, one of the most expensive flooring materials
Best Flooring Materials to Consider

Vinyl - fully synthetic polymer that is very versatile

Non-porous wear layer makes vinyl virtually water and stain proof

Design options are numerous and can mimic almost any material including hardwood, stone or tile

Provides more comfort underfoot than harder materials such as stone or tile

One of the most cost effective flooring options available

Quick and easy installation

Engineered Wood - also referred to as composite, engineered wood differs from hardwood in that it is a veneer of hardwood on top of several wood layers underneath.

Very resistant to moisture damage when installed with proper adhesives

Provides high end look at a much lower cost than hardwood

Extremely fast installation, can be installed over any subflooring type (padding, concrete, etc) with relative ease

Floating Wood Tile - composed of a synthetic material that simulates a wood (or sometimes stone) appearance, which is then laminated.

Stain resistant and very hygienic

Easy to clean

Simple installation

Relatively inexpensive
Other Options
Ceramic or Porcelain tile as well as Stone can provide for an upscale floor in both indoor and outdoor spaces. They are easy to clean (though depending on design, grout lines can require extra effort), stain resistant and come in a wide variety of styles. The replacement costs and installation difficulty of these materials make them less than ideal for rental properties.
Before tackling any flooring project, stop by your local flooring professional's showroom to compare the many different options and styles available.
Eckard's Flooring and Design Center has flooring professionals in Savannah, GA and in Bethany, Carrollton, St. Joseph, and Stanberry, MO. Eckard's Flooring Design Center is a family business with over 50 years of experience and can help you every step of the way to design and install your perfect floor. Give them a call at 912-355-6224 to begin the process of finding the perfect floor for your needs.