There are many options when it comes to flooring materials but one that should certainly be considered is vinyl. When many of us think about vinyl flooring, we picture our grandmother's old bathroom floor with curled edges. Fortunately this material has improved greatly over the past decade and has many wonderful benefits making it a great choice for several applications.
All flooring materials including vinyl, carpet, ceramic tile and natural options such as hardwood and stone possess many inherent pros and cons. Before choosing a material it is important to understand how your floor will be used, what style you are looking to achieve and know your total budget. Read more about the many considerations you should factor in when deciding which floor is right for you here.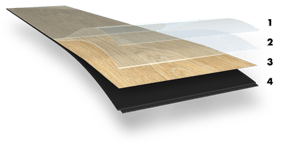 Vinyl is a manufactured product that is produced using synthetic polymers, essentially a very versatile plastic. Vinyl flooring is made up of layers of material starting with a core of vinyl over a backing of fiberglass or felt. Decorative designs are printed on the next layer that sits on top of the core. That decorative design layer is what makes vinyl flooring so versatile; it can be made to look like almost any material including hardwood, stone or tile. The final layer is also vinyl and is called the wear layer.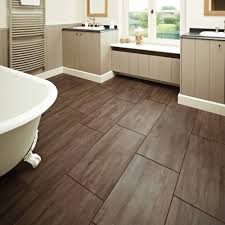 Waterproof
Vinyl is non-porous and impervious to water and is therefore perfect for rooms in which liquids commonly make contact with the floor such as kitchens, bathrooms and utility rooms.


Stainproof
Because it is non-porous, vinyl does not easily stain as long as spills are cleaned in a timely fashion. This make maintenance very easy - vinyl floors can be swept, vacuumed or mopped. Vinyl is a particularly good option for pet owners.



Options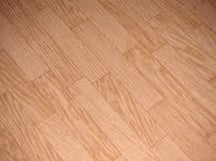 One of the greatest benefits of vinyl is its versatility. Because decorative layers can mimic nearly any other material, there are practically no limits to style options. Whether you're looking for a clean solid color similar to tile, a modern hardwood or unique print, vinyl can achieve the aesthetic look to compliment the room.


Improvements
While once only available in large sheets, vinyl flooring is now manufactured in a variety of forms. Laminated planks with tongue and groove (T&G) systems are particularly great for designs which mimic hardwood flooring. Improvements have also been made to the wax coating on the surface and T&G edges to further protect against water damage.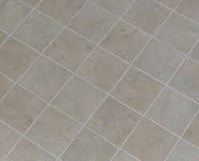 Comfort
Unlike ceramic tile or stone, vinyl is soft underfoot and is comfortable to stand on for long periods. Although it has some cushion, the surface is durable and flexible which makes it very scratch and dent resistant.


Cost
One of the most cost effective flooring options, vinyl typically costs between $1 and $5.00 per square foot uninstalled. Coupled with its durability and versatility, these low replacement costs make vinyl flooring a great option for rental properties or those that receive a lot of heavy or abusive foot traffic.


Installation
Compared to other materials, vinyl flooring is one of the easiest to install. Loose lay options can eliminate the need for subfloor preparation, lowering the overall project cost. Sheet vinyl is typically glued down while T&G planks lock together. The T&G planks create a floating floor which does not need to be held down with fasteners or adhesive and can be installed over any smooth surface including concrete, wood or existing vinyl.
Before tackling any flooring project, stop by your local flooring professional's showroom to compare the many different options and styles available.
Eckard's Flooring and Design Center has flooring professionals in Savannah, GA and in Bethany, Carrollton, St. Joseph, and Stanberry, MO. Eckard's Flooring Design Center is a family business with over 50 years of experience and can help you every step of the way to design and install your perfect floor. Give them a call at 912-355-6224 to begin the process of finding the perfect floor for your needs.