Flooring can be as aesthetically pleasing as it is practical but with so many flooring options available, how do you choose which is best for you? Whether you and your spouse are designing your dream home or you need to update the floor in your small business with something that is easier to maintain and will hold up to the constant foot traffic, there is a product out there for you. As you read through the list of options and attributes below, remember that everyone has their own style and every floor has it's own benefits and drawbacks.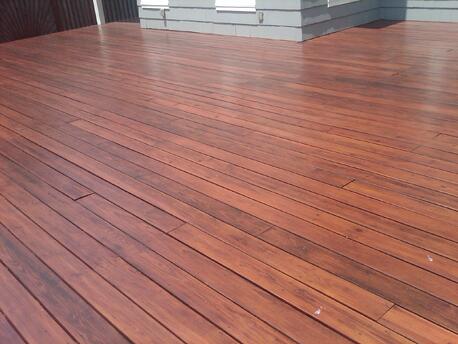 Attributes to consider when comparing flooring options:
Comfort
The comfort of various materials is difficult to gauge unless you're able to walk on a professionally installed floor. In general, tile and laminate applications are hardest and most cool to the touch whereas carpet has the most warmth and give. Note that carpet padding plays a major role in the cushion. Cork and hardwood fall in between in terms of cushion.
Durability
How long will any particular type of flooring last? The cost of replacing flooring of any sort can be substantial, consult with flooring professionals and research online the quality of various brands and products. Some products come with manufacturer's guarantees or warranties for various lengths of time if professionally installed.
Maintenance
Dirty floors are no good but neither is spending an hour a day keeping it clean. Consider the maintenance level required for each flooring option. Think about what makes your current flooring look dirty most often and how that same mess will look on one of these new materials.
Aesthetics
Flooring can change the entire look of a space, be sure to consider lighting and the colors, textures and materials of furniture and window treatments that may compliment or clash with it. With flooring being a large project that is not easy to change often, you'll want something that you're happy to see each time you enter the room
Location
Flooring materials are designed for various uses - some floors that may look great in the living room or kitchen may not function as well in the bathroom.
Different types of popular flooring Savannah GA has to offer
Carpet
Carpet is particularly great for bedrooms, living rooms and family rooms due to its comfort and aesthetic appeal. Berber carpeting is especially great - its strong weave makes it extremely durable and the patterns often show much less wear. Because it is more of a wall-to-wall rug, berber doesn't show vacuuming lines like many other carpet types.
Hardwood
Hardwood flooring may be the most popular option in America. Oak in particular is often used, as it's incredibly durable and can take on so many different shades depending on the finish selected. When properly sealed, hardwood can also be very stain resistant. Additionally, unlike carpeting, hardwood can easily go in nearly every room of your home, and only needs an occasional sweep or vacuum to keep it looking great.
Cork
Cork flooring has excellent thermal attributes accentuating comfortability. It's lightweight, easily replaced, and easier on feet than solid hardwood flooring! Savannah, GA hasn't been as accustomed to cork flooring until more recent years when the winters have become more harsh.
Tile
Tile flooring is extremely durable and often impenetrable to long-lasting stains. This means the upkeep can be relatively easy, but installation can be difficult. Tile floors are particularly well suited for spaces such as kitchens, bathrooms and mudrooms that constantly deal with water.
Vinyl
Vinyl flooring can be considered a jack of all trades; it's lightweight, durable, and can emulate styles of other floors. Vinyl comes in many different textures and colors, and installation is fairly easy but doesn't typically look as elegant as other options such as hardwood or tile.
Flooring is one of those products that is best seen in person. Feel free to come in to any of our Savannah, GA or Missouri Eckard's Flooring showrooms or give us a call if you have questions about any of the flooring options above.