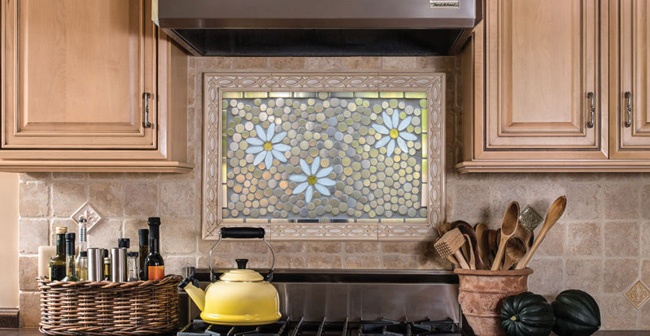 We all know how it is with backsplashes. Unless you are a designer or an architect, before the building of your new home or starting your renovation, no one thinks that backsplashes are a cool and exciting topic. But, once you start you can't stop thinking about them and then you become a wealth of information on the topic, right?
If you are almost an expert or even if you are just diving into the subject, we have a few thoughts on the subject of backsplashes to add to your growing list of reasons they are so cool.
Easy to install and care for
Let's start with some of the practical reasons backsplashes are so cool. A backsplash can dramatically alter the look of the most important room in your house, in just one weekend. With just a few tools and a little research you can design and install your own backsplash. Leaving time for more important things, like flooring!
They are called backsplashes for a reason. A backsplash is generally placed above your stove and sink, the places where food is bound to fly (though you can also wrap it right around your kitchen, or just do one small area). It is far easier to wipe a tile clean than it is to scrub a wall, and there will be less wear and tear on your walls.
A crucial design feature
The eye is naturally drawn to certain places in a room. In the kitchen, the main focal point is the area between the range and the hood of the stove. The next place the eye is drawn to is the area just above the sink. So, while the backsplash is partly for the practical purpose of protecting your walls, it is also an important design feature. Here are some ideas for getting the most out of your backsplash:
With the right choice of colors and texture, a backsplash can tie other elements of your interior design, such as flooring and furniture, together.

Choose a beautiful centrepiece for your backsplash. A hand painted or glass tile, or an interchangeable kitchen palette, will not only look attractive but can also save you money. If you have a large area to tile, you can save money by purchasing a more costly centre piece and surrounding it with appealing, but less expensive tiles.

If you have a small space, a backsplash that wraps right around the room can make it seem larger.

If squares are not your thing, try putting your tiles on a diagonal!
With all of these options your backsplash can really express your personal style. It can almost be as cool as you are! Okay, maybe not quite that cool!

Here are some other articles that might interest you: