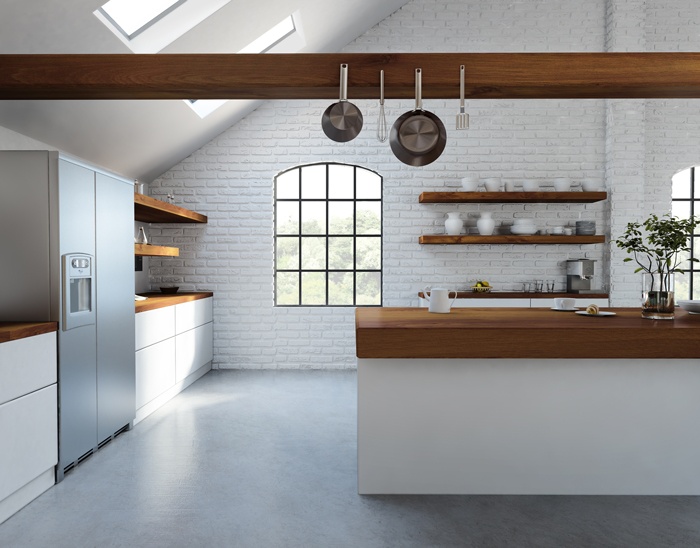 When you're remodeling your home everything can seem overwhelming. Deciding on the new paint color, your furniture selection and your new décor can be a challenge. However, the most important element of any remodel is the flooring.
Your floors must withstand far greater wear and tear than any other part of your home. From children racing around gliding toys across the floor and pets walking around with their muddy paws, your floor has to put up with a lot. Your situation and home is unique, which means you can't simply opt for what is trendy. This is even more so the case when you are remodeling your kitchen. As one of the most high traffic areas of the home, the kitchen requires durable flooring to withstand the demands you place on it.
To help you narrow down the best flooring options for your kitchen we have pulled together a brief list down below. The list is based on over 30 years of experience in the flooring industry.
Your kitchen floor will undoubtedly be one of the highest traffic areas of your home. It's obvious then, that you need a material that is durable. Hardwood flooring is one of the most popular options for kitchens because of its strength and timeless appeal. However not every kitchen is ideally suited for hardwood.
In terms of style and layout, an open kitchen floorplan is perfect for hardwood flooring. Because of the difficulties with laying hardwood, it is best to consider it only if your kitchen is wide open. If it's not, you might want to opt for a different material.
Hardwood is incredibly low-maintenance, moisture-resistant, and can last for decades. There are two kinds of hardwood—engineered and wood planks. We typically recommend engineered hardwood as it doesn't buckle under high humidity and is resistant to movement. For more about differences between engineered and non-engineered hardwood check out this article.
A few things to consider regarding hardwood include the difficulties surrounding its installation. Hardwood also doesn't retain heat and can change with the seasons. With numerous finishes to choose from, engineered hardwood and wood planks allow you to customize your kitchen flooring for the perfect fit.
For more about hardwood installation, check out this article.
If you're looking for a stronger material for your kitchen flooring, then porcelain tile is your best bet. As an offshoot material of more common ceramic tile, porcelain is much more durable and reliable than any other flooring material. Made from stone fired at extremely high temperatures, porcelain is incredibly stain resistant and immune to moisture.
Many people use porcelain tile outdoors because of its durability, but it is also excellent for kitchen flooring. Another bonus for choosing porcelain for your kitchen is its ability to hide imperfections. No matter if you accidently chip a tile or in some other way slightly damage your title, it can easily be hidden thanks to the structure of the material. It is also extremely easy to clean, making it ideal for kitchens.
However, there are a few things to consider when choosing tile. Some homeowners dislike grout as it has a tendency to stain easily. Additionally, most kitchen items like plates or glasses will break as soon as you drop them on tile, which is something to consider if you have children.
If you're looking for an affordable alternative for your kitchen flooring, one that cleans easily, then porcelain tile is an excellent choice for your remodel.
Vinyl Flooring is a popular choice for kitchens. Sheet vinyl is extremely resilient, and is one of the softest flooring materials available. For those who spend a good deal of time cooking in the kitchen, vinyl flooring is an excellent choice. It is also waterproof and stain resistant. Easy maintenance is another bonus for choosing this material.
It's not all peaches and cream with vinyl, however. Due to its flexible and soft nature, sharp objects can easily damage it. Additionally, experts agree that overtime organic compounds can be released into the air decreasing the quality of your indoor air.
For an affordable, stain-resistant, easy-to-clean flooring material, vinyl is your best option. It is also ideal for families with small children or for individuals who tend to drop items frequently. Available in a wide array of colors and patterns, choose this material should you want a more affordable yet attractive flooring material.
For more about vinyl flooring, chek out this blog article, "Don't Dismiss Vinyl Flooring Until You Read This".
Cork Flooring
Cork flooring is the most eco-friendly flooring material available. As a sustainable product, cork bark lessens your impact on the environment. The unique structure of cork bark makes it incredibly water resistant and compressible, which allows manufacturers to manipulate it in any way they like.
Another bonus for cork flooring is the fact that it is slip-resistant. The texture allows you to grip the surface which prevents falls and slips. It maintains a comfortable feel despite its non-slip texture, however. Cork flooring is also stain and mildew resistant.
It is also amongst one of the more expensive forms of flooring material and can absorb water if not properly sealed. If you're looking for an attractive and eco-friendly material for your kitchen flooring, then cork may be right for you.
Bottom Line
Any one of these materials is an excellent choice for your kitchen remodel, but by considering your budget and needs you can make a better choice for your long-term kitchen flooring.