Who doesn't like the protection of a manufacturer's warranty when purchasing a new product, particularly a high value item such as hardwood flooring? After all, you're investing in a custom surface that has the potential to last 50 to 100+ years and increase the value of your home (learn more about the benefits of hardwood flooring here). Unfortunately, while 25 year, 50 year and lifetime warranties are pretty much standard on all wood flooring products on the market today, they are practically worthless.
Hardwood flooring manufacturing is an incredibly competitive industry and with materials being sourced from all around the world, prices continue to fall and margins are razor thin. In order to differentiate their products, manufacturers began issuing long term warranties. Like price per square foot, the length of warranty is easily comparable for shoppers researching their options online and in stores. The problem is that these hardwood flooring warranties are really designed to protect the manufacturer, not the retailer or consumer.

Most warranties cover four main areas:
tongue and groove systems

clear coat

color / shade

delamination
Tongue and groove systems, clear coat, and color/shade all fall into the category of product defects - visible or structural damage on the product right out of the box. These are things like broken boards, major scratches and dents, these defects are immediately noticeable when the product is unpackaged. Unless you're buying seconds or any other "as is" product, a warranty is not needed to return damaged goods. Any reputable hardwood dealer will replace damaged or defective product without question.


What is a Tongue and Groove System on Hardwood Flooring?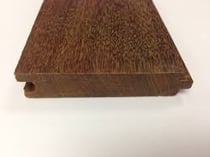 The tongue and groove systems allow for hardwood flooring to be installed without the use of screws or nails through the face of the boards. The boards are fitted edge to edge with a thin protruding lip (tongue) in the center of one board slipping into a corresponding channel (groove) on another. The manufacturer warranty only ensures that these systems are correctly in place and fit together as designed.


What is a Hardwood Flooring Clear Coat?
A Hardwood Flooring Clear Coat is the finish that is applied to the top surface of flooring materials. These clear coats range in appearance from flat to matte to various levels of gloss. Manufacturer warranties ensure that the clear coat is in fact present and evenly applied.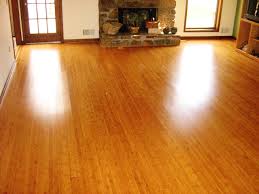 The color of hardwood flooring is one of the most important aspects when selecting the right material for your home. Both natural and engineered woods come in a wide spectrum of color options from light blondes to red to dark browns and nearly black. Every dye lot of wood is slightly different. While this array of color, particularly with lighter woods or those which show a lot of grain pattern, can add depth and visual design, the last thing you want is to have noticeable sections of different colors. These variances make matching existing and new hardwood flooring practically impossible - learn more about this and other hardwood flooring considerations here. With regards to color, manufacturer warranties only guarantee that the product will be within what are deemed acceptable tolerances as compared to the samples provided.


What is Delamination?
Delamination refers to the separation of layers in engineered wood which is a composite, man-made material. Unless there was a malfunction in the process in which the adhesive binding the layers together did not perform properly (which is almost certainly to be detected during quality assurance testing prior to shipment), this is a virtual non-issue. If boards do delaminate, it is almost always the result of exposure to excessive levels of moisture after installation. If this is the case, manufacturers will undoubtedly cite the moisture level requirements of the product. This is why it is incredibly important to understand these moisture specifications prior to installing hardwood flooring and address your specific needs with your flooring professional in advance.
How Should You Choose Hardwood Flooring?
Rather than selecting material based on manufacturer hardwood floor warranties, work with a trustworthy and respected flooring professional who can direct you to the right product for your specific application. There are literally thousands of products to choose from when it comes to hardwood flooring of different levels of quality and style. A good flooring professional will know first hand the quality of materials sold by various manufacturers and won't risk selling you a product that will put their reputation at risk.
Eckard's Flooring and Design Center has a staff of flooring professionals in Savannah, GA, as well as Bethany, Carrollton, St. Joseph, and Stanberry, MO, Eckard's Flooring Design Center is a family business with over 50 years of experience and can help you every step of the way to design and install your perfect floor.